Ali's latest newsletter challenge is:

This week the challenge is to embrace that wonderful imperfection inherent in using stamps. Sound like a big challenge? It is. If you are like me, sometimes it has to be laid out right in front of you for it to have any impact.Here's a little more direction: create a layout that uses at least three different stamps - one geometric, one text, and one organic (swirl, artsy, etc.). If you make a mistake, work with it or leave it. Chances are, no one will ever notice except you - everyone else will see it as a totally cool artsy use of stamps. Embrace that!

So here is my layout for the challenge, the journalling is hidden, and taken from here.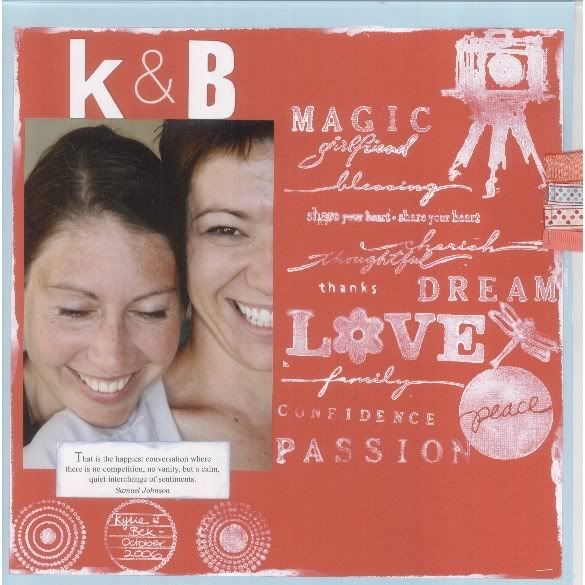 The journalling shown is: Magic, Girlfriend, Blessing, Share your heart, cherish, thoughtful, thanks, dream, love, family, confidence, passion and peace.
The quote is:
"That is the happiest conversation where there is not competition, no vanity, but a calm, quiet interchange of sentiments" Samuel Johnson.

I am quite sure this woman MUST have been my sister in a previous life. We are SO VERY alike in many ways and then complete opposites in others.
And, just like a sister does... she knows exactly how to push my buttons, bring out the WORST in me and drive me NUTZ!! *big grin* Sometimes we need that tonic, no?
She also knows how to bring out the
VERY BEST
in me... and I love her dearly. We have known each other for over 10 years... but this is the year we became
best of friends
.
Even on the tough days I love you Kyle.... very much!
I could go on and on about our soul connection, I will instead, simply say... it just is.
Peace and Love.. and a GLORIOUS Friday peeps.
Bx