Firstly... I am *fine*, well and alive.
I did badly... not near as well as I would have liked or hoped. WHat was I thinking???? about night riding?? Oh... yeah a disclaimer of "so long as you have effing kick arse lights" would have been appropriate!!! MINE SUCKED and died (both headlights (2) and helmet) at the 6km mark- you know the mark where you are past the wall of this hurts *a lot*.... and just getting into your groove, yeah - there!!! So I had to walk 14kms of the track. Yeah, that was FUN. NOT. I am not ashamed to admit that there were tears and tantrums and a bit of swearing.



**This photo is from last years Mont 24, this year was much bigger. 2800 peeps competing.

There were also some fantastic, brilliant mountain bikers - every second rider asked if I were okay *I LOVE THE MOUNTAIN BIKERS COMMUNITY* TWO riders even stopped to give me their spare lights. The first - his back up didnt work. No worries. The second (Marc)... a tiny light, that DID help somewhat for half an hour.

Plus there was the moon (beautiful, big and full)... so on the firetrails I was able to get on the bike for a bit. And in the forest, on the single tracks.... I was able to jump on my bike here and there chasing the good lights.

But it really sucked. It took 3 hours for me to complete the 20km course. Which really should have taken no more than 1.5hours. I went out at 1900hrs which was later than expected. So Nath and Mikaela arrived at my expected departure time of 1800hrs... only I didnt leave for another hour. I went down to meet Nicole, I thought I had another 10mins to spare... but as I cruised down... she was coming in. I screamed to her "I am coming Nic"... and just ran. I didnt even get to kiss Nath and Kaela before I jumped on the bike to do my lap. I could hear Nath yelling "goodluck" to me as I took off. Before I knew it I was on top of the switchbacks... tight sharp, steep corners down the side of a mountain STEEEP! ... I love this part. I could hear yelling "hear comes another princess"... and I slid out. I was getting pissed off. But I got back on and continued. At the bottom of the hill Nath and Mikaela waited... I waved to them and yelled "hey Kaela" ... I could see their proud faces clearly... and I powered on. But my race all went to shit when I lost my lights. It was disappointing. I cried. I swore. I kicked rocks and stumps. I cut my shin up walking into the pedal. I swore more. It really sucked. After walking for 3kms... with 11kms to go... I asked a passing rider the time... 8pm. FUCK. My team is going to be pissed off. I knew it was going to take me another 2 hours to get back in. Then I thought Nath and Mikaela would have to go home ... and I cried AGAIN.
There were some amazing riders offering help, words of encouragement, and genuine concern. I have to say... I had a really good view...when the SOLO riders powered past me... it was just a sea of lights. I will never forget it. And the feeling. It was great. I was waiting for Jas to lap me... or one of my other friends. Finally at about 5kms to go Neil passed me... "are you okay Bek?" I responded something along the lines of "yep just no lights, keep going, there is nothing you can do... just let the team know I am okay. Not injured!" (it seemed like the first hour.... someone had broken a collar bone!!)

I swear I saw the 2km to go sign TWICE (everyone assures me there IS only one). When I saw the 1km to go sign I was stoked. Another run through a single forest track and then up onto my bike...passing camp sites and hearing encouragement being yelled at me from everyone I passed... was really special. I got in. I could see Kyle. But not Nath or Kaela. I was grinning... I had made it back. I yelled out to Kyle and stuck my tounge out. She was yelling back "Mikaela had to go to the toilet" I almost wanted to turn around and come back up the hill and wait for her (ALMOST... I was still thinking I'd do another lap). I took of the batton and passed it to Drew, trying to apologise for taking so long, explaining about my lights. He knew, Neil had told him... he took off. I pushed through other riders waiting to transtion... inching towards Kyle ... and crying, saying "it was horrible Kyle" and she gave me a hug. She took my bike for me... and I started walking back to camp... Then I saw Nath and Mikaela. Kaela saw me and put her arms out in an exasperated manner "oh Mum"... no other words were required, I knew what she meant. I knelt down and gave her a huge cuddle. Poor babes - they had been waiting at the extremely dusty (SO DUSTY) end gate for an hour and a half for me to come in. We went back to camp. Nath helped me get my camel back off... and get a bit comfy before he took Mikaela home at about 2300hrs. I went off to help Kyle with Jas.

I planned to do the "glory" lap... the last one! But I realised the best I could expect would be another 2hours.... and did I really WANT to put myself through that?? No. So Dru went out instead. And that was good because at least he was then able to do his PB. Mine will have to wait until another day.

I must say I achieved what I set out to do for THIS race. I was part of Australia's biggest 24hour mountain bike race. I really could not expect any great results as I did not train. I was not well prepared. But I was there.... I was in it. I gave it a go. As best I could for my ability (not much *grin).... and for that I am REALLY happy about. It was an amazing experience. 12noon Saturday to 12noon Sunday... an exciting, incredible BUZZ. Most importantly for me - was my team... and my friends. Being there for and with them... was the best part of the weekend for me. And Nath was even a major part too. It was amazing.. the whole weekend!!

I got 4 hours sleep helping Kyle take care of Jas... and here is where I go on a total rant and rave about how much I admire those two. Brilliant people. JASON TOTALLY ROCKS... and so does my girlie Kylie. So sweet. I had teary when they started. And a few throughout the night. They are just the most dedicated couple. To each other. To their children. To their family. To their dreams and desires.

I *HEART* them so much!!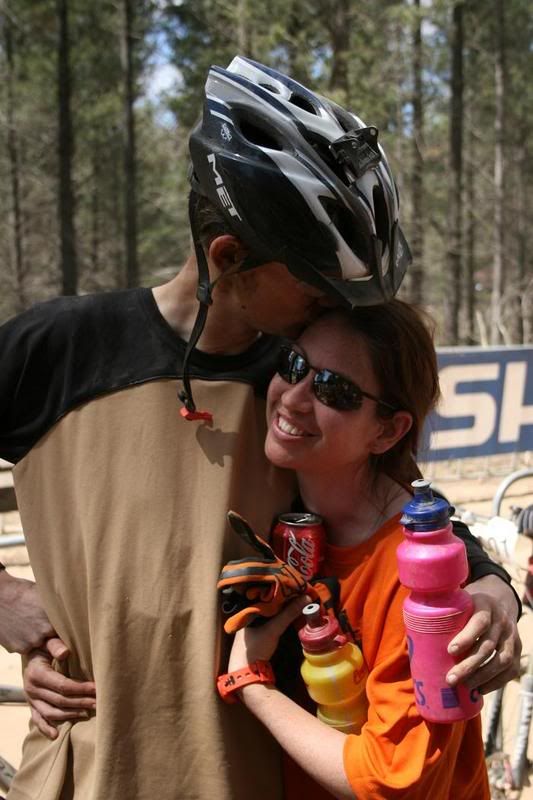 JAS - YOU ARE THE BOMB DUDE!




He had a plan, he stuck to it... and he achieved what he set out to do. 16 laps SOLO. Amazing. There were some hairy moments... but he kept it together. HE DID IT!! THIS is what he looked like after 16 laps... amazing. A total inspiration. And just a top guy!

His Dad, John... told me he thinks his son is*magic* !! Beautiful.

And a *HUGE* big love thanks to my man... Nath continued to receive SOS sms all throught the first 12 hours... and delivered on every request for everyone. Thanks my babes. I love you. YOu are the most considerate and nicest guy... and I love how nothing is a bother for you. Thanks for supporting me always... even with these crazy hairbrained ideas... hey wanna be a support person for a Girl 2 team????? Bahahahaha!

BTW... I WILL LOAD SOME PROFESSIONAL PICS HERE OF ME IN THE "RACE" soon. Or one day *smile*

Edit 0929hrs Monday 9 October 2006: Results are in. Precious Princesses. And SOLO Male Jason McAvoy (he came 14th... WOW!!!)

Early this morning Jas wrote a long thankyou email to his supporters over the weekend. SO very humbling ... this whole weekend and experience. I share with you his thank you to me and Nath:

Bec; For hour after hour and well into the morning/witching hours I would come into transition and there would always be a smiling face with a something funny to say to lift my spirits, and your warm face washer was the best feeling I had that whole weekend! And pass onto Nathan again a big thanx for the bandaids on my hands... even with them my hands are still a mess, I hate to imagine what they would be like if hadn't gone to the trouble of going to the shops for me during the race.


Go here to read Jas's account of his fantastic performance.

If I posted his thankyou to his wife Kyle... there would be SO MANY tears. These are SERIOUSLY GOOD people.
I feel so totally effing blessed today. In every possible way!
Love, Peace and contentment peeps!
Bx