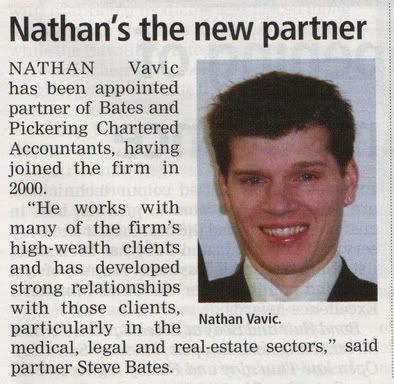 .... remarkably like my Nathan... wowsers!
The word is out, it is "official" now.

Nathan is a partner at Bates and Pickering Chartered Accountants. 20 years and only two partners.. and now Nath is joining the team.

Its BIG and SCARY... and I am SO VERY PROUD of my guy. He took the leap... he did it.

And this Daily Guru message is just for you my love:


SUCCESS IS A DOOR YOU WALK THROUGH
You must move toward success, it doesn't come to you.
The golden opportunity you're seeking lies within you.
It's not in your surroundings.
It's not in luck or chance, or the help of others.
It's in you alone.
Opportunities are all around you.
You can develop them if you apply persistence to your possibilities.
If the door of opportunity appears closed,
just keep knocking on it, and keep knocking on it until it opens.
Be an opener of doors.
Nath has been receiving so many lovely emails from the community.... and I am so happy for him.
It is a great time for him and for us... and his parents are coming over this weekend to help celebrate.
Happy Happy..... Joy, Joy.
Bx