... I am getting into, came to my attention via AEZine (and is actually totally inspired by the AliSTAR herself!) AND the ever gorgeous Gigi is on the team… her work is so fabulous!! In fact the entire team ROCKS !! If you have not checked it out yet… go have a look at the "One Little Word" challenge site.

Since I was traveling… I was not able to do, or post, my challenge responses on time. I was able to sketch ideas and layouts so when I got home I was able to do them in a flash!

I have decided to use this challenge as an ART JOURNAL… total creative mess-about-fun stuff. I have created a 12x12 album to house these pieces.


Here are my first three challenges:
Word Up #1… GO ! This poem by Theodore Roethke has always "spoken" to me… I really love it !! Especially this line.. so immediately when I saw the word GO I thought of this poem, and maybe because we were GO GO Going on our holiday… it just fit and worked.


Word Up #2… STOP! Stop and smell the roses… it's a cliché but oh so true.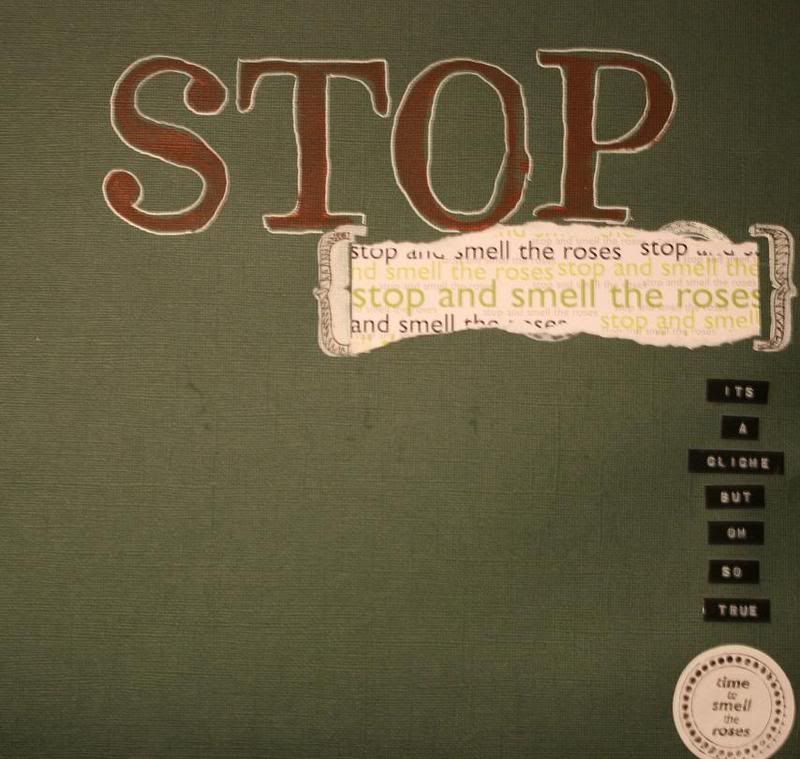 Word Up #3… MY! Mikaela is so funny at the moment! Her latest "thing" is to ask me who my favourite in the family is, when I respond "both of you", she says "No Mum you have to choose one, just one… me or Nath… I wont get upset" USUALLY I say her and we all laugh… occasionally I say Nath or the Baby … and we laugh!! (I figure it will be good material for her to tell her therapist one day). Geez… see how she goes when our wee babe arrives. Eik!


STILL working on my travel journal… it is rather HUGE. Its coming along nicely and I should be able to post some pics soon. My gal pal Kyle is coming over for our usual Friday get-to-gether… and Sunday we have a scrap day… whoooohoooooo. I am ALL OVER LOVING SCRAPPING LIKE A RASH AGAIN.

It's a beautiful life.
Bx