Mikaela is so BIG right now!!
She lost her first tooth while we were out shopping on Saturday... I of course got all teary and started to cry, Nath was like "its not a crying moment Bek".... I said "YES IT IS, you are not a mother"... all the women in line were nodding in agreement grinning with tears in their eyes and most the men were just smiling and pretending to roll their eyes!!

So that was the first MAJOR sign that my baby is infact becoming quite the little Miss.

I bought her a goregeous book "The Tooth Fairy" by Peter Collington, I TOTALLY recommend to all parents. It is a picture book, no words ~ you make it up~ the illustrations are amazing. He has another about Christmas... and that one just gets me every time!!! Fabulous stuff.

THEN... the next very big thing for my little girl... she is riding her bike all by herself! Her little one AND her big one, tho with her big one it is only for about 10mtrs at a time. Still practice makes perfect and I am so totally proud of her. Cute as! The sweetest thing is to watch her face light up.


Nath took her around the block yesterday and then we were at it up and down the street... and again this morning. IT IS GREAT! Seriously cool!

BAD mummy!.... I just realised not only did she have no shoes on this morning... but no helmet either! Geez I dont know ... how has my dear girl survived almost 6 years in my care? Bahahahaha. I can NOT believe she will be SIX (6) in just a few weeks... unbelievable!!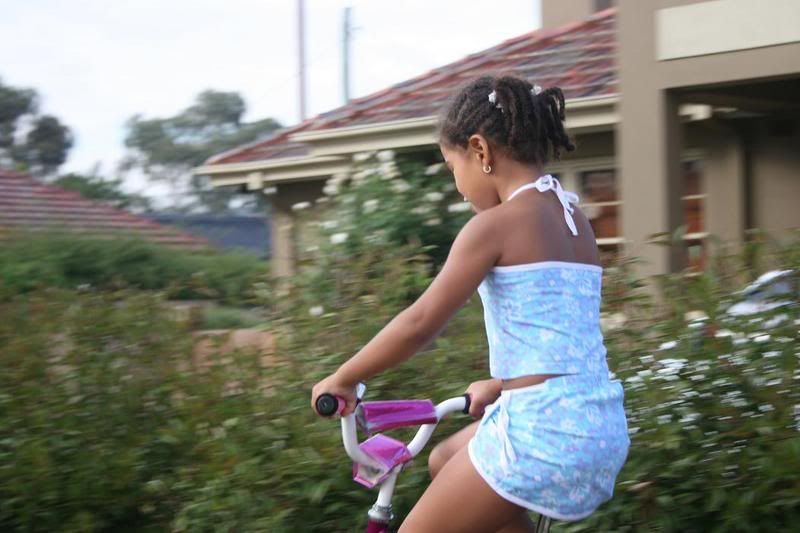 We were going to go down to the coast today... but I have touch footy tonight, so decided on the cotter instead (a river near home).

Oiw... and I have a few art projects to share soon, fun stuff indeed...

Love and Peace
Bx